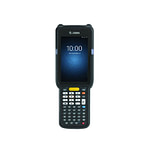 ZEBRA MC3300 Handheld Mobile Computer
د.إ4,800.00 exc. Vat
Description
Additional information
Specification
Accessories
Videos
Downloads
Reviews (0)
Description
The Zebra MC330K-GE4HA3US Android Mobile Barcode Computer is the 4th generation of the highly successful MC3000 series offering the latest Android 7.0 Nougat OS for the enterprise, faster processor, 4GB RAM / 16GB Flash Memory, SE4850 Long Range 1D/2D Imager Scan Engine and an improved drop spec.
With a familiar form factor and keypad options, the Zebra MC3300G Premium enables customer to migrate their mobile apps from Windows to Android without changing the experience they currently have today. This type of continuity from generation to generation has made the MC3000 family one of the most widely deployed mobile computers in the industry.
Complete MC3300G Premium Barcode Kits Available Here with Barcode Software >>
To provide an added level of continuity and stability in your backroom Zebra has made the MC3300 backwards compatible with the MC3200 battery, soft holsters and charge cradles (via adapter).
The MC3300G Premium can be used for a wide variety of mobile apps including Asset Management, Inventory, and Order Picking.
What's Included:
Zebra MC3300G Premium Android Barcode Mobile Computer with SE4850 Long Range 1D/2D Imager, 4GB RAM / 16GB Flash Memory, 47 Key Keypad, 802.11 a/b/g/n/ac/d/h/i/k/r/w, Bluetooth 4.1 and Android 7.0 Nougat Non-GMS OS
5200 mAh Lithium Ion Battery
Note: Additional products and software may be required.
Additional information
| | |
| --- | --- |
| Weight | .4 kg |
| Dimensions | 20.26 × 7.47 × 16.39 cm |
| PDT Brand | |
Specification
Zebra MC330K-GE4HA3US Barcode Terminal Features
4.0 inch capacitive; WVGA; color Display, Corning Gorilla Glass
802.11 a/b/g/n/ac/d/h/i/k/r/w WiFi Connectivity and V4.1, V2.1 + EDR w/ Bluetooth Low Energy (BLE)
Android 7.0 Nougat Non-GMS OS
SE4850 Long Range 1D/2D Imager Scan Engine
NFC Reader
47 Key Alpha Numeric Keypad
Qualcomm 8056 1.8 GHz hexa-core 64 bit CPU and 4GB RAM / 16GB Flash Memory
Multiple 5 ft./1.5 m drops to concrete over the entire operating temperature range and IP54 Sealing
3-axis accelerometer; gyroscope
Rechargeable Li-Ion: High capacity 5200 mAh battery
Accessories
Videos